Bicycling
Bicycling is my hobby.
I have more bicycles than needed.
Lynskey Bicycle
My Lynskey is a traditional bicycle.
I built my Lynskey.
My Lynskey is a titanium bicycle.
I ride my Lynskey a lot.
Gold Rush Replica Bicycle
My GRR is a long, recumbent bicycle.
I did not built my GRR.
My GRR is an aluminum bicycle.
I ride my GRR a lot.
Fast Freddy Markham set a bicycling speed record in 1979 on a Gold Rush.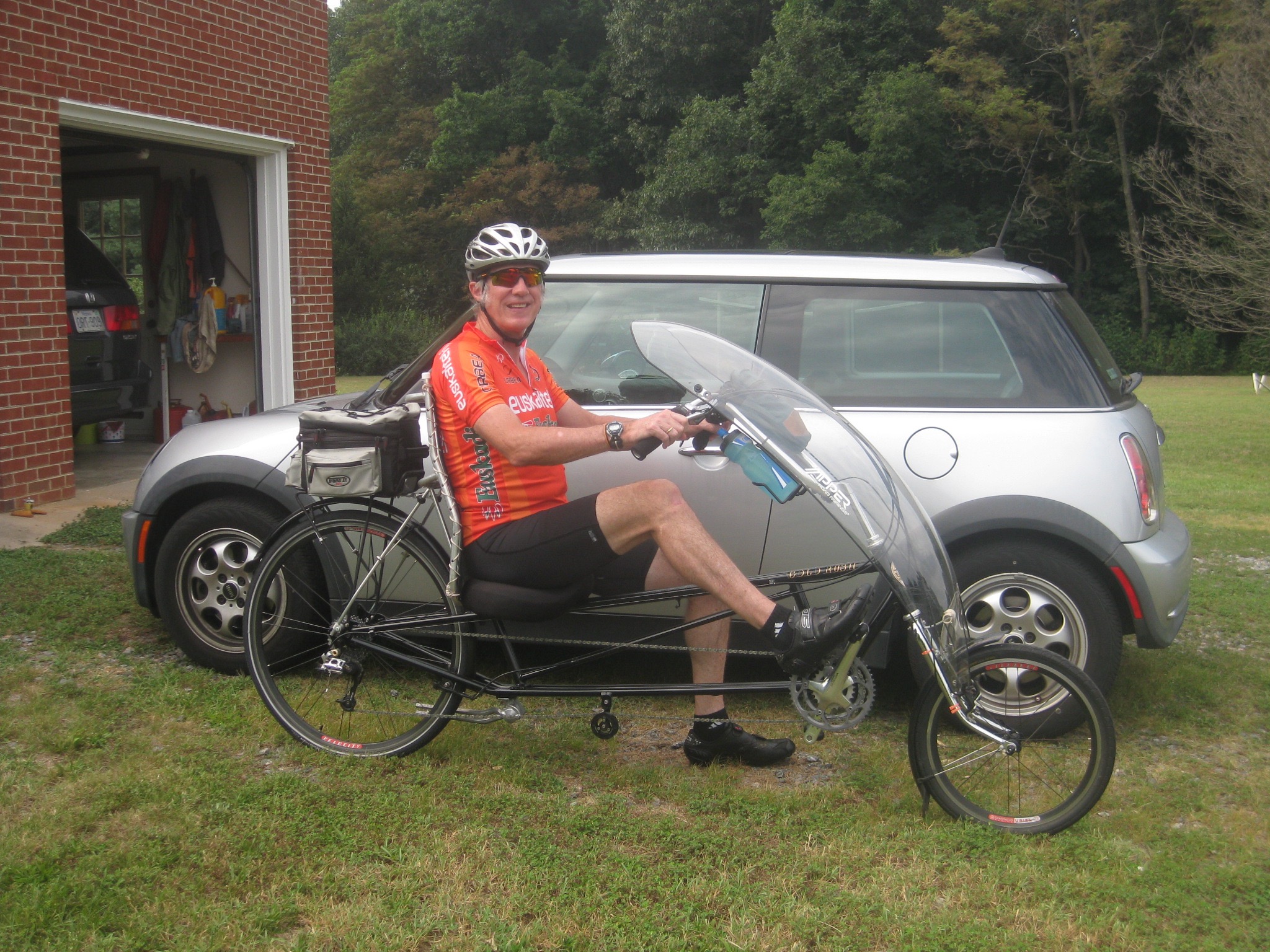 Fast Freddy's Gold Rush
Fast Freddy's Gold Rush is fully enclosed.
Fast Freddy sits upright just like I do on my GRR.
There are several ways to achieve speed on a bicycle.

Using traditional bicycles.
Using fully enclosed bicycles
Going down a steep hill.
Tight loops in a velodrome.
Pedaling on a long flat surface.

Fast Freddy pedals a fully enclosed bicycle on a long, flat surface.
In 1979 Fast Freddy was the first to pedal over 50 mph.
In 1986 Fast Freddy set a record of 65 mph.
Today the record is 85 mph.
Tandem
My tandem allows you to share your joy with others.
My tandem is a Burley.
My tandem can be ridden on roads or gentle trails.
The photo shows two people having fun.
It looks as if the stoker is not helping the captain.
Time Trial Bicycle
My time trial bicycle is made for going fast.
Most of the time you ride a TT bicycle with elbows resting in pads.
TT bicycles are also called triathlon bicycles.
My TT bicycle is rather old.  It has 650 wheels, which are close to 26" wheels.  The theory was 650 wheels put you closer to the ground and improved aerodynamics.
A bought my TT bicycle from a friend, who rode it in an Ironman Race.
I have ridden my TT bicycle in duathlons and as the bicyclist in a team triathlon.
Rest of my bicycles
I will post the rest of my bicycles in the near future.